>

Info to hire golf clubs

>

About us
About us

Hire golf clubs !
MyCaddyMaster, golf clubs rental for holiday golfers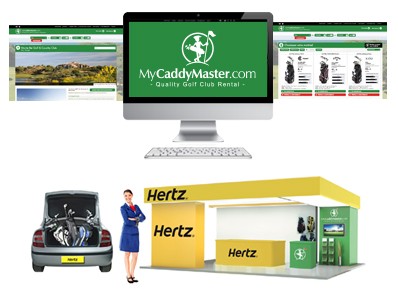 Our vision
MyCaddyMaster S.A.S.,set up by a family of passionate golf-trotters, wants to make
golf clubs rental
as simple and efficient as ski rental.
Our values: Quality, speed, convenience and pleasure
MyCaddyMaster S.A .S. joins the web flexibility to the quality of
airport Hertz desks
to create the 2.0 golf clubs rental website intended for European golf-trotters.
This website brings to your disposal up-to-date quality golf clubs in the airports of your
favorite golf destinations
and discharges you from the hassle of transporting your golf bag for enhancing the pleasure of your golf holidays.
Quality
You fear receiving old clubs?
MyCaddyMaster selected from the manufacturers of the best brands (
MIZUNO
,
CALLAWAY
,
XXIO
,
SRIXON
,
COBRA
and
CLEVELAND
) a large assortment among the latest technological generation of golf clubs to elevate your level of play: hit longer, straighter, more precise shots!
You will experience the joy of testing out on the fairways the latest models before buying them later if they give you satisfaction. Who is ready to buy golf equipment worth several thousand Euros without testing the effect of these clubs on his level of play?
Save time and fly stress-free
Speed & Passion
MyCaddyMaster conceived a website and welcome desks adapted to your expectations.
At home, with a few clicks, choose your clubs according to your personal characteristics (age, men/ladies, right handed/left handed, frequency of play) and even customize your bag with the addition of the putter, the wedge or the driver which brings you confidence.
At the airport arrival, find easily our golf addicted MyCaddyMaster staff that will greet you at the
MyCaddyMaster-Hertz desk
, and collect rapidly your complete bag with your personal name tag, as well as all the clubs and accessories that you booked on line.
If you selected the option «
Golf Clubs & Drive
», your bag will already have been placed in the boot of your Hertz rental car.
If you selected the option «
Delivered directly in your holiday location
», your bag will be delivered at your Hotel or Villa directly.
Convenience & Pleasure
MyCaddyMaster discharges you from the hassle linked with transporting your golf bag from home to your holiday golf destination.
Forget the tiredness of transporting your golf bag!
Forget the ever increasing surcharges in cabs and planes!
Forget the stress when you find your own clubs damaged, broken or stolen during the flight!
Enjoy your golf breaks fully while traveling stress-free with MyCaddyMaster.
Your beautiful personalized bag is waiting for you in the
Hertz-MyCaddyMaster desk in the airport
that you have selected.
MyCaddyMaster helps you
You want to enjoy your stress-free golf holidays?
MyCaddyMaster is helping you in each step, from choosing the destination to the
selection of the equipment best suited
for your specifications and up to the valuable indications that will make your golf break unforgettable.
We guide you through the best courses and ease your choice of green fees as well as the most favorable tee times.
Our advice helps you in selecting the car adapted to your golf bag and the golf accessories essential for your golf holidays.
Enjoy while playing on the best golf courses!

MyCaddyMaster presents you several offers
(
Evolution, Performance and Excellence
) for an amount similar to the saving achieved through your excess luggage.
Come and test the MyCaddyMaster golf clubs in full trust!